About Us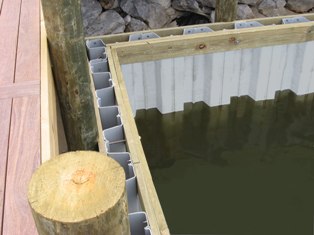 Hello, and thank you for taking the time to learn about Tidewall. My name is Dan Berent, President, and I'm excited about the value that Tidewall vinyl seawalls can offer to you.
The Tidewall dream team was formed by the merger of the original vinyl seawall manufacturer, Bama Plastics; and a premier vinyl recycling company, Regenex Corporation.
Bama Plastics brings their 16 years of contract seawall manufacturing to our partnership; more than any other company. In fact, you may be surprised to discover that several seawall suppliers don't even do their own manufacturing. Much of the seawall installed under another name was in fact originally produced under contract by Bama Plastics.
Regenex Corporation has been a leader in the vinyl recycling industry since 1992. Over the years, Regenex has supplied millions of pounds of premium recycled vinyl window compound to the seawall industry. Vinyl window compound is the best, most weatherable, impact modified compound for seawall. Other seawall suppliers may use lower grade siding, fencing, or pipe grade compounds.
The partnership of these two companies to form Tidewall offers tremendous benefits to you. We have the ability to completely control our quality, insuring a beautiful finished seawall. From the specification and sourcing of the raw material, to the careful processing and blending, to the state of the art extrusion, our quality is second to none.
This vertical integration also gives us unmatched cost control. Because of this, we have made it our goal to make Tidewall seawall more affordable to you. We welcome price comparisons between Tidewall and other seawall products.
Tidewall vinyl sheet piling has been installed in many countries around the world, for flood walls, errosion protection walls, and cut-off walls. The combination of performance and low cost leads to our motto "THE BEST VALUE IN VINYL SEAWALLS".
One final comment: Bama Plastics and Regenex Corporation both built their reputations upon outstanding customer service, and that tradition will continue with Tidewall. We will bend over backwards to meet our customers needs, and when we make a commitment, we will live up to it. You can count on it!
If you have any questions about Tidewall vinyl seawalls, or if we can be of service in any way, you may contact me directly at info@tidewall.com. Despite our success internationally, there are still many countries to which Tidewall has not yet been introduced. Therefore we are actively seeking qualified companies or individuals to act as Distributors or Agents within these countries. If you have any interest in exploring the potential of bringing the benefits of Tidewall to your country or region, please click on the Become a Distributor menu item to communicate your interest.
Thank you again for your interest in Tidewall.